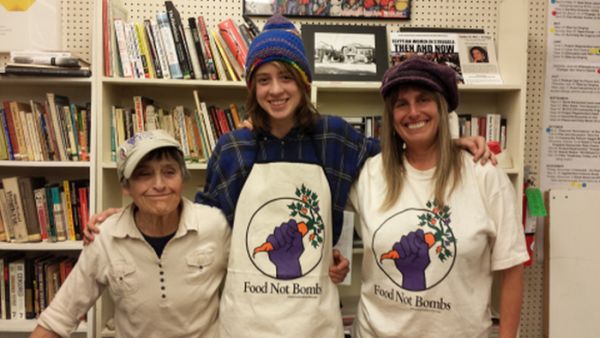 Volunteers
Weekly Volunteer Opportunities
The following contributions require no commitment - just show up.
Food Prep 12-3:30pm on Saturdays
If you love to cook, prep veggies while having fun with others, we appreciate your help! Email santacruzfoodnotbombs@gmail.com or call us at 831-515-8234 for location.
Setup and Serve Food 3:45 - 6:00pm on Saturdays and Sundays
If you love to unload, setup and share food, please come to the Downtown Post Office at 850 Front Street
Data Entry & advertising
Phone volunteers
Flyering around town
Donate dry goods - drop off at Downtown Post Office

The following contriubtions require a commitment of 1 - 4 days per month. We REALLY need your help in these areas (Bottomliner means making sure all tasks get done):
Cook Bottomliner 11am-5pm on Saturdays
If you love bottomnline cooking (ensuring that nothing gets burned and the spices are just right), we have a slot available up for 1 Saturday a month. 1:1 training provided by co-founder Keith McHenry!
Transportation Bottomliner on Saturdays and/or Sundays (2-3 hours at various times during the day)
If you have a truck/van or can drive our truck, a manual shift, we can use your help a few hours on Saturday and/or Sunday.
Cleanup Bottomliner - 5 - 7pm Saturdays and/or Sundays
If you enjoy sweeping, cleaning dishes and making sure everything is picked up, recyled or composted, this job is perfect for you.
Farmers Market Pickup - Saturdays
Beginning in August, we need you to go to the Farmers Market and pick up food. Only 1 hour of your time! Must have car.
Literature Table Bottomliner - 3:45 - 6:15p on Saturdays and Sundays
If you like talking about local, national or world activist topics, you can pick 1-4 Saturdays and/or Sundays per month.
Shower Bottomnliner - 3:30 - 6:30pm on Sundays
Bring shower, towels & soap, set up portable camping shower, make sure everyone in line is happy, and keep filling the shower with water. Pick 2-4 Sundays per month.
Produce Organize Bottomnliner - 3:30 - 6:30pm on Sundays
Ensure that all produce stays clean, dispose of composted items, organize produce, recycle boxes. Pick 1-4 Sundays per month.
Setup and Serve Food Bottomliner 3:45 - 6:00pm on Sundays
Unload truck, setup and share food. Pick 1-4 Sundays per month.
Haircut Bottomnliner - 3:45 - 6:00pm on last Sunday of the month
Store barber chair, mirro and sign at your home and bring back and forth to Sunday events. Last Sunday of the month.
Really Really Free Market Bottonliner - 3:45 - 6:15pm on Sundays
Each week bring donated items to the meal and take lefover items to your home for storage until the next week. Advertise Free Market on Craigslist.
Contact Information
If you have any questions or inquires, feel free to contacts us via email
santacruzfoodnotbombs@gmail.com
or phone
831-515-8234
.
Join our newsletter email list!